Harlyn Pacheco
Qlovi

Co-Founded with Ricardo Rodriguez

All Fellows Conference Host Committee, Medellín 2018

2013 Black Male Achievement Fellow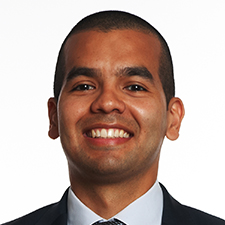 Qlovi

Co-Founded with Ricardo Rodriguez

All Fellows Conference Host Committee, Medellín 2018

2013 Black Male Achievement Fellow
bold idea
Improve literacy skills for kids of color in K-12 schools by using an interactive software platform to provide individualized student instruction.
organization overview
Qlovi fosters improved literacy in K-12 schools serving kids of color by using an interactive software platform to provide differentiated student instruction and empowerment.
Personal Bio
Harlyn is COO at Picap. In the past, Harlyn advised executives on product and investment strategy as consultant at Accenture, served as CEO of Qlovi with support of Echoing Green, led diligence on clean energy investments at the White House Office of Management Budget, and coordinated marketing efforts for the Major League Baseball World Baseball Classic. Harlyn has an MBA, MPP, and BA from the University of Michigan and splits time among Berkeley, California, and Latin America. Harlyn is a 2013 Echoing Green Fellow.
Organization/Fellow Location ?

Our most recent information as to where the Fellow primarily resides.

Impact Location ?

Countries or continents that were the primary focus of this Fellow's work at the time of their Fellowship.

Organization Structure ?

An organization can be structured as a nonprofit, for-profit, or hybrid (a structure that incorporates both nonprofit and for-profit elements).