angie beatty
The J.U.I.C.E. Project

Co-Founded with shawn mckie

2009 Global Fellow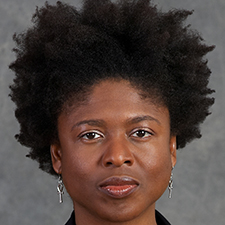 The J.U.I.C.E. Project

Co-Founded with shawn mckie

2009 Global Fellow
bold idea
Combat disease mortality in inner cities by reinventing the corner store as a one-stop shop for nutritious yet affordable food, free exercise training/activities, media/health literacy education, and art programs.
organization overview
Situated in a predominantly Black and low-income neighborhood, The J.U.I.C.E. Project provides free and on-site programming that blends media/health literacy education with physical exercise and art for social change. They empower youth to make healthy lifestyle choices by helping them understand how food, physical activity, and behaviors (e.g. heavy television, alcohol, and tobacco consumption) impact their physical and mental health.
Personal Bio
Born in Newark, NJ and reared in Durham, NC (her mother's hometown), vegan/feminist/scholar/activist angie colette beatty serves on the Governance Committee for Gateway Media Literacy Partners, and has facilitated media literacy education and writing workshops at national conferences and youth facilities for more than a decade. Applying earnings from her service in the U.S. Air Force, angie attained her BS in Psychology from Delaware State University (1997), as well as her PhD in Communication from the University of Michigan (2005)—receiving both a Kramarae Outstanding Dissertation Award from the Organization for the Study of Communication, Language & Gender and Foote Distinguished Dissertation Award from the Department of Communication Studies at the University of Michigan in 2006 for her work on power and Black women and girls' aggression in hip hop culture. Her work, "What Is This Gangstressism in Popular Culture?", appears in the anthology Next Wave Cultures: Feminism, Subcultures, Activism by Anita Harris (2008). However, as angie had grown more interested in applied research and holistic health, she ended her brief stint in academia in 2009 to found and serve as executive director for Jumpstarting Urban Innovation with Critical Thinking and Exercise (JUICE), Inc., which collaborates with healthy corner store The Juice Box LLC to form The Juice Project. Since earning an Echoing Green Fellowship, angie has received Resolutions from both the Missouri House of Representatives and City of St. Louis Board of Aldermen, a Golden Brick Award from Desales Community Housing Corporation, and a Neighborhood Greening Award from Gateway Greening for her work with The Juice Project.
Organization/Fellow Location ?

Our most recent information as to where the Fellow primarily resides.

Impact Location ?

Countries or continents that were the primary focus of this Fellow's work at the time of their Fellowship.

Organization Structure ?

An organization can be structured as a nonprofit, for-profit, or hybrid (a structure that incorporates both nonprofit and for-profit elements).