John Jordan Jr
Fight for Light

Co-Founded with Markese Bryant

All Fellows Conference Host Committee, Atlanta 2016

2012 Black Male Achievement Fellow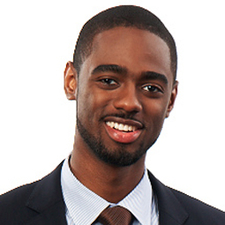 Fight for Light

Co-Founded with Markese Bryant

All Fellows Conference Host Committee, Atlanta 2016

2012 Black Male Achievement Fellow
bold idea
Transform communities by empowering local black college students to be environmental leaders by providing access to sustainable energy and urban agriculture practices.
organization overview
Fight For Light will offer a transformational experience for students of Historically Black Colleges and Universities. We will recruit high performing students to become change agents for environmental sustainability in low-income communities.
Personal Bio
John Jordan is a graduate of Morehouse College with BA in Business Finance and a minor is Leadership Studies and Economics. While at Morehouse, he founded an organization and created a student development curriculum entitled Resurgence of the Crown and was selected as a JPMorganChase Leadership Studies Scholar. After graduation, he served as an Oprah Winfrey South African Fellow assisting youth living with HIV/AIDS and supported several organizations working to increase access to education throughout townships surrounding Johannesburg and Cape Town. He also worked at UBS Investment Bank in Fixed Income Sales & Trading. As of 2017, John Jordan is a member of the leadership team of Remix: The Soul of InnovationSM, an innovation management collaboration designed in line with sustainability's framework of Social, Economic & Environmental triple-bottom line. He represents the economic aspect of the triple bottom line.
Organization/Fellow Location ?

Our most recent information as to where the Fellow primarily resides.

Impact Location ?

Countries or continents that were the primary focus of this Fellow's work at the time of their Fellowship.

Organization Structure ?

An organization can be structured as a nonprofit, for-profit, or hybrid (a structure that incorporates both nonprofit and for-profit elements).